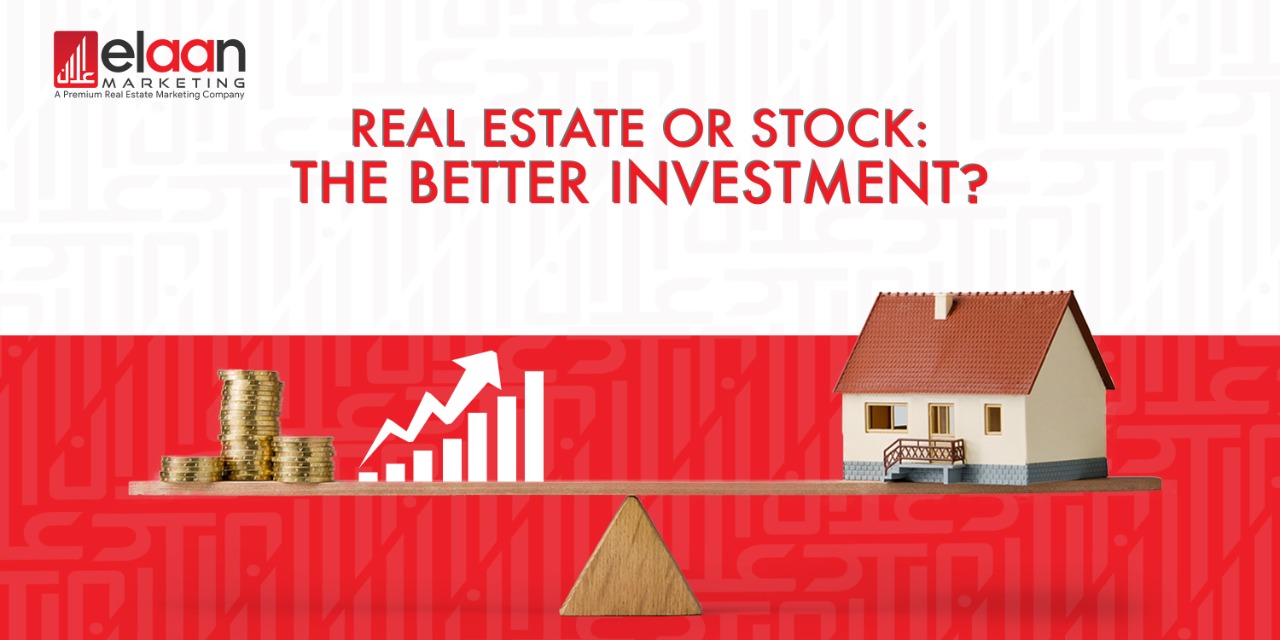 Which one is better for investment: real estate or stocks?
Investing in assets always has valuable returns and if you want to be financially independent in the future, start investing today.
Invest in Real Estate or Stocks
If you are thriving for a better future and planning big goals, you must have a complete strategy for investment. Investing in both stocks and real estate can make you wealthy, but it all depends on your financial stability, the market condition, and various other external factors.
Stock buying is risky, and we all know risky things can be beneficial and harmful depending upon the situation of the market. Investing in real estate or stock remains unsolved until we get proper knowledge. So, hear me out.
Reasons to Invest in Real Estate vs Stocks
Are you a person who has a broad vision for their future and wants stability? If so, real estate investment is amazing because it is the safest way that will give you worthy returns. But, what if you have small capital and you want a quick profit? Then yes, you can buy stocks and earn profit but at your own risk. Let me show you how.
Pros of investing in real estate
More negligible effect of external factors
Let's see how these factors matter.
More control
Real estate is a physical asset, and you can always have an eye on that. You can be the boss of that specific property and make changes with that the way you want.
Tangibility
Real estate is more real and popular than the stock market. It attracts more potential investors due to the control. It also gives diversification which no other market offers.
Less fraud possibility
There are very few chances of fraud in real estate as you can inspect everything by yourself. You can genuinely check the building or place you will buy; you can have proper documentation and legal assistance. So, it is secure in terms of security too.
Less influence of external factors
Real estate is less affected by national or international interest as it is a local business whose value increases with time. You can resale the property at high rates, or you can rent it out to get a steady income for the whole of your life.
A safer investment
It is not as liquid as the stock market because there are fewer chances of drastic change. It is best for people who want to live a safe life. Real estate vs. stock returns decides which one is better.
Elaan Marketing has several projects that are perfect for real estate investment.
Cons of Investing in Real Estate
You must know the reasons to invest in real estate vs. stock, and for those, you must have a keen observation of their benefits and losses. Problems you can face while investing in real estate are as follows:
They give you a complete plan of how this specific piece of land would be beneficial for the coming days and in what possible ways the land can be utilized. One real estate marketing company in Islamabad is Elaan Marketing, that has eased investment in Pakistan's real estate; a company based on innovation and real marketing trends.
Best property investment in Islamabad 2021
There are many opportunities that you can choose for yourself. You can contact any of the real estate companies to know about future development plans in Islamabad. They can give you a housing market examination by fully considering a few factors that help close an agreement. Their deliberate methodology and essential systems are efficient and time-bound as well.
Best real estate investment in Pakistan
The well-growing industry of real estate has opened up paths for investment. Mega projects are being started where you can invest and make your future secure.
Here they are:
It is located in a prime location of Gulberg Greens Islamabad. This mall, with its outstanding features, has turned the game. Amenities provided by this mall never existed in Pakistan before.
They are one-of-its-kind sources of entertainment. Luxurious penthouses are there to give you the best views of Margalla Hills. Your investment will not go in vain, because magnus mall is the best investment with zero risks.
Twin City Tower Mall and Residencia
Twin city tower is located in F-18, C block Faisal town, which is just a few minutes away from Islamabad airport, Fateh jungh, and Srinagar Highway.
This building contains:
14 floors for residential purposes.
Includes 3 floors reserved for commercial uses
This project is one of those projects which are part of the best property investment in Islamabad 2021.
A question indeed arises after looking into such magnificent projects as how to invest. So, here is the answer.
How To Invest In Real Estate In Pakistan
Investment in real estate in Pakistan is a worthy move towards a bright future. You have to keep the following things in mind.
What is your requirement?
You must be clear about your requirements for where you want to invest, along with the budget you have in mind.
Do market research
Once you decide your requirement, you can go through marketing research and meet some agents who can give you proper guidance. Elaan Marketing has some of the best real estate agents available to get you the best property investment opportunity.
Buy your property
You must be keen about the location while buying a property. You must have proper knowledge about tax systems in Pakistan to legally go through the process and avoid any disturbance in the future.
Sell your property
This is the time when your investment in real estate in Pakistan will bring fruitful responses. You should not rely on one source while selling. It would help if you went through marketing trends before choosing or fixing any price.
Overseas Pakistanis who want to invest in their country often ask a few questions:
It will not give you instant results
You must have hefty capital
You must be careful about investment plans
But are apartments really better than homes for investment ?
Why invest in Stocks?
Are you thinking about real estate vs. stock returns and want to get wealthy within days, then you can opt for stocks to invest in. The following can be benefits to investing here.
Buy a share in any company and get a profit
This is a quick way to earn profit
Cons of Investing in Stock
But wait, what if that company loses the game? Then the shareholders who have invested in that will face the consequences too. Let's see how:
No control over stock
The stock market can rise and crash within a day. And obviously you wouldn't have any control in it.
The stock market is gambling
A few days ago, Ronaldo made a single gesture and changed everything within minutes. He put aside coke on the table while doing a press conference. Coke faced a loss of 4 billion, and obviously, those who have bought shares faced the same loss. So, it is a very uncertain and less assuring way of investment.
Real Estate vs Stock Returns
We can analyze that by comparing both of them.
Real estate returns
Stock market returns
Equity can have more than doubled within 5 years.
Stocks generate 7-10% annual returns.
Investment is certain
Less certainty leads to confusion
Short term strategy leads to loss
Real Estate Stock Market Relationship
The relationship between real estate and the stock market depends on the interest rate. You must be wondering how these two are connected. Let's make it easy.
When investors want to buy property, they mostly go for mortgage loans, and all loans come up with interest rates. Lenders make trust and then give loans. If the stock market is going well, lenders know that jobs and salaries are going well, so they provide lower interest rates.
But, if the stock market shakes, lenders lose trust in their clients and, in return, demand high-interest rates, which ultimately decreases the confidence of investors. No one wants loans on such high terms. So, you must know both to analyze and choose best.
Frequently Asked Questions(FAQs)
+
Yes, obviously, from the past few decades, real estate has beaten the stock market. It is doing great and has made people believe that this is a safe investment.
+
Yes, 2021 has been a year of the pandemic, which has decided that long planning and goals can only be achieved by real estate investment.
+
Investing in real estate is the best option as it gives you a safe and worthy future.