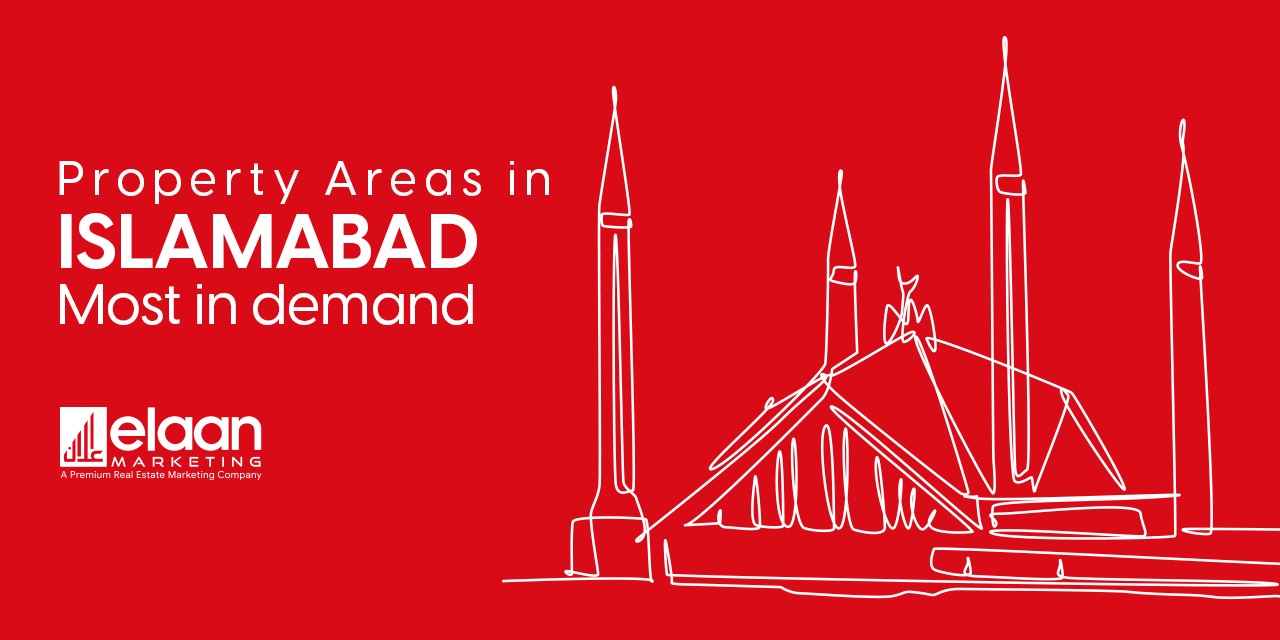 Islamabad is the world's second most beautiful capital of the world. In the past few decades Islamabad has become the commercial hub of the country with modern, elegant and unique architecture
In the near future it is expected that Islamabad will be among the biggest commercial hubs of the subcontinent. It is not only the best place to live but the best place to pursue property business and investments as well, let's discuss.
Best Property Investment in Islamabad
Uncertainty in the market, the economy, and a country's political climate can be a real concern for investors, creating a state of confusion among the investors as to where and when to invest.
Nobody wants their investment to get stuck in the projects with no perceptible outcome in terms of profit.The local population is also showing high-interest levels in investing in the property business in Islamabad.
But how do you find the right project? Why not start by looking at some of the best Pakistani investments this year.
Best Areas for Investment in Islamabad
Property business in Islamabad is growing, Those who have already invested in projects are enjoying good cash flow. Here are some of the best areas for investment in Islamabad.
Faisal Town F-18 Islamabad
Faisal Town F-18 Islamabad
Faisal Town is an exquisite township located on Fateh Jang road, very close to motorway M-1 and just a few minutes drive from new Islamabad International Airport. It is actually under the jurisdiction of the RDA, but it is said to be in Sector F-18 of Islamabad. RDA has given it its NOC of approval.
What does Faisal Town offer?
The residential society is a gated community that offers a wonderful blend of modern and high quality living. The society greets you with two main entrance gates that are 110 feet wide and reflect a unique blend of Gandhara traditions and Mughal architecture. Faisal Town is a small housing scheme with only three blocks A, B, and C, making the society a close-knit community surrounded by tranquility. This small neighborhood's development is of a high standard and exudes nothing less than excellence. Residential plots of various sizes are available in the residential town.
Exclusive Features
Metalled Road 40′ to 110′ wide
Underground & Overhead Water Tanks
Sewerage Disposal Stations
Underground Electrification
High-end educational facilities
Horticulture & Plantation
Modern Waste Collection and Disposal
Projects in Faisal Town
Faisal Town is among property areas in Islamabad most in demand. There are many projects in Islamabad that meet international standards. One of them is the Twin city towers.
Twin City Towers
Twin City Towers, a state of the art Shopping Mall covering an area of 10.5 kanals, comprising 24 floors and almost 54000 sq feet. This project consists of residential apartments as well as commercial shops. It is designed for luxury and comfort, having all amenities in it. There are three main towers in it that are matchless in their construction and design.
Amenities
Here are some incredible amenities that twin city towers offers.
Invest in Twin City Towers
This is the best place to invest for a meaningful future that you won't regret. Twin City Towers is offering a 30% discount on its booking prices.There are residential apartments where you can invest and make money, but are apartments really a better investment than homes?
Gulberg Greens Islamabad
Gulberg Greens Islamabad is located on the main Islamabad Expressway, giving it access to Rawalpindi and Islamabad. It has a location benefit over other societies. A prime location that covers the twin cities. All of the top notch locations and frequently used highways are just a few minutes drive away from gulberg greens Islamabad.
The following stats may ease your understanding of location:
It is a 15-minute drive from Faisal Mosque
The airport is only a 30-minute drive away
10 minutes to Zero Point Islamabad
T-Chowk Rawat is 15 minutes away
Invest in Gulberg Greens
It is a beautiful residential project of the Intelligence Bureau Employees Cooperative Housing Society (IBECHS) in the twin cities of Pakistan. The project is also known as the IBECHS Phase 3 Islamabad.
You must invest in Gulberg Greens because of the amenities this society offers and where everything is easily accessible. Top of the line institutions, delicate parks, modern shopping malls and all other necessities you can think of are available. Moreover, many investment opportunities can bring good returns as it will be the best property investment in Islamabad 2022.
The Magnus Mall
The Magnus Mall serves as a skyscraper that has 26 floors, which consist of hotels, restaurants, cinema, fun city, gym, car parks and corporate offices. The Magnus Mall is surely the biggest mall of twin cities
With the changing trends, investment trends have also changed. People are now more interested in investing in mega malls than in houses or any other property. The Magnus mall in Gulberg Greens is the best option for a profitable investment. It has an advantage over other projects due to the following reasons.
Four parallel parking floors
Mechanical automobile parking
Easy installments plan booking starts as low as 30%.
Sector B-17
Location plays a vital role for any property in terms of worth, facilities and in terms of its future outcome, Locations with all the modern facilities around them, such as schools, universities, or markets, are highly prefered. The connection of B-17 with motorway and zone II of Islamabad capital territory makes it the best place for its residents.
It is only 5 minutes away from Margalla Road
45 minutes away from Faisal Masjid
35 minutes away from Islamabad International Airport
Only 25 minutes away from Kashmir Highway
Invest in Islamabad Square
Islamabad square in B-17 is the best residential apartment project. Elegant and modern apartments have all luxury facilities. Ranging from 1 bedroom to 3 bedrooms, depending upon the needs of people. The design of the ceiling and floor is unique on its own, which gives the feel of style and sophistication.
Amenities at Islamabad square
Here are the amenities that Islamabad square offers for those who want to live an admirable life.
Special arrangement for women's prayer area
Apartments for Sale
The trend of apartments has increased a lot in the recent past, investing in Islamabad Square apartments guarantee you a favorable return. Apartments for sale in Islamabad square are available. This is the best time to avail yourself for the opportunity and own a property that you can rent out or live in by yourself.
Frequently Asked Questions(FAQs)
+
The best property for investment in Islamabad is twin city towers located in Faisal Town. This project is bringing incredible investment opportunities, including commercial and residential. Moreover, the amenities are extraordinary that benefit every resident. The tower's design speaks for itself and invites investors to invest in a mega project.
+
Gulberg greens is the best society for investment. It is considered as a city within a city designed for elegant and modern living. It is a beautiful residential project of the Intelligence Bureau Employees Cooperative Housing Society (IBECHS) in the twin cities of Pakistan. The project is also known as the IBECHS Phase 3 Islamabad. Gulberg green Islamabad is located on the main Islamabad Expressway, giving it access to Rawalpindi and Islamabad. It has a location benefit over other societies.
+
Faisal town is the best area for living in islamabad. The area offers all the facilities of life that are needed today. There are institutes, colleges, hospitals and parks in this area. Moreover, the environment is clean and serene. The security system is foolproof ensuring a secure living.