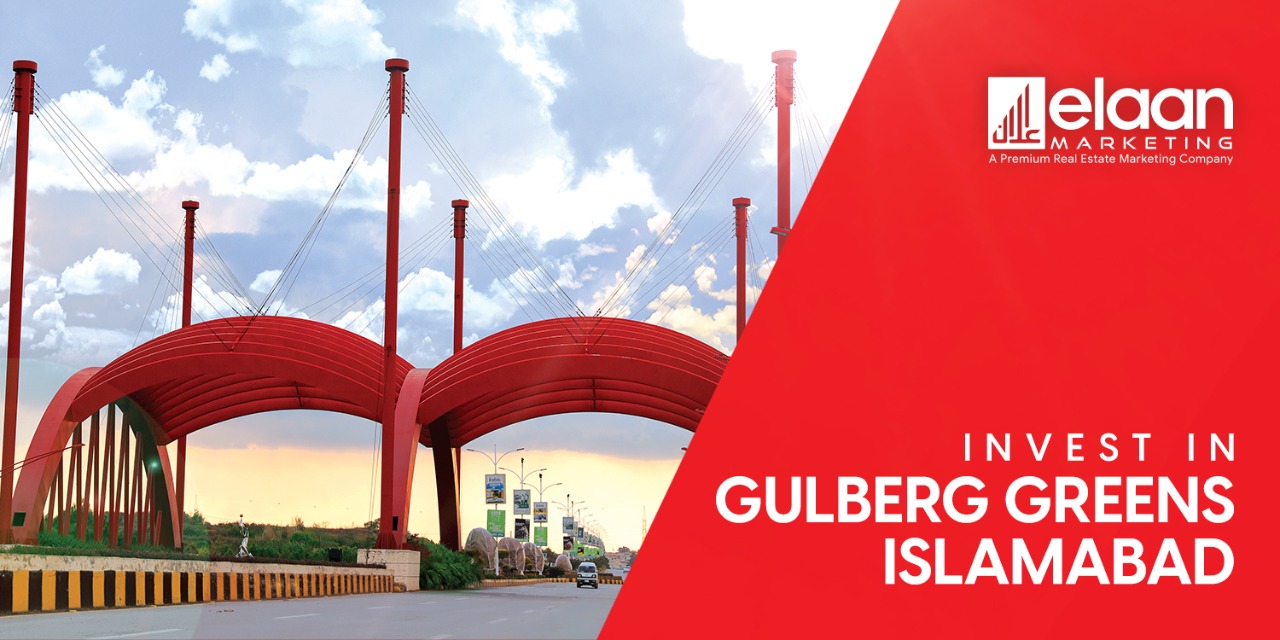 Who does not prefer a green and serene environment in a big city with no crowd and pollution? Gulberg Greens is a city within a city that is designed for peace lovers. It is a beautiful residential project of the Intelligence Bureau Employees Cooperative Housing Society (IBECHS) in the twin cities of Pakistan. The project is also known as the IBECHS Phase 3 Islamabad.
Gulberg Green Location
Gulberg green Islamabad is located on the main Islamabad Expressway, giving it access to Rawalpindi and Islamabad. It has a location benefit over other societies.
It is a 15-minute drive from other sectors of Islamabad.
15 minutes to the G.T road
T-Chowk Rawat is 15 minutes away.
Amenities in Gulberg Greens
Gulberg greens is like a dream city where you can get everything at any time. There are institutions, parks, shopping malls and all other basic facilities of life. It is a safe and secure space to live in.
80% Green Area
The society's main theme is to provide greenery and nature to its residents. In this time of illness and noise, people need the peace that only greenery offers. So, Gulberg greens contain 80% nature in an area that relaxes your mind and soul.
Dedicated Security
There is a complete system of security that includes guards and CCTV cameras. You can freely do your work without the fear of crime and enjoy life within the community. The area is clean and safe, with no crime rate.
Water Supply
Gulberg Green is not only providing a clean environment but also the basic facility of clean water. There are water filter plants that are always in check and balance to ensure the health of residents.
Waste Management
While considering other amenities, society has the best waste management system. You will never see garbage at any place, or you will never sense rotten smells in an area because this area is fully clean and green.
24/7 Backup Electricity
The society offers 24/7 electricity, and you won't ever face a power shortage. There is complete check and balance over electrical outlets. .
Mosque
There is also a huge mosque amidst the greenery of society. The architect and design of the mosque are eye-catching, and the location is very central.
Wide Road Network
Roads are designed in a way that they aid and ease transportation. There will never be a problem of traffic jams in this community.
Underground Wiring
The area is safe and sound, and you will never regret the decision to invest here. There is a facility of underground wiring that will protect you and your family in the rainy season.
Investment in Gulberg Greens Islamabad
Gulberg greens has such facilities that any wise businessman would choose to invest. There are commercial and residential projects that offer world-class amenities. The area is secure and peaceful, and you will always take it as the wisest decision of life if you choose to invest in Gulberg greens Islamabad.
Projects in Gulberg Greens Islamabad
There are endless opportunities for investment in Gulberg greens because it is developing at a fast pace. Let's go through the projects that offer the best investment opportunity in Islamabad 2022.
Gulberg Rabi Center
Gulberg Rabi Center Islamabad has come up with some of the best investment opportunities. It contains 11 floors of 12.5 Kanal with residential and commercial spaces.
Ground Floor 1 is dedicated to Cloth Market
Ground Floor 2 is dedicated to Brands
Ground Floor 3 is dedicated to Jewelry Market
The upper ground floor is Commercial Shops
The 1st floor is for the Mobile Market
The 2nd floor is residential
Residential Apartments
Gulberg Rabi center also contains residential apartments varying in size and range. This project has made it possible for any person to buy a shop or live in an apartment in the greenery of Gulberg greens according to their needs.
Gulberg Green Farmhouses
Gulberg Greens is a farmhouse-style development in CDA Zone 4 of Islamabad. These farmhouses provide a beautiful and high standard of living, making them ideal for those looking to escape the hustle and bustle of the city. The plot sizes at Gulberg Greens farm houses range from 4 to 10 Kanal. In the region, six primary blocks contain all the amenities required to live a luxurious life.
Invest in Magnus Mall
Another project in one of the best societies of Islamabad is The Magnus Mall. The amenities and luxuries are outstanding that distinguish it from all others. It has an advantage over other projects due to the following reasons
A location has multiple routes
Four parallel parking floors
Mechanical automobile parking
Payment Plan
If you invest in The Magnus Mall , you will enjoy the luxuries mentioned above that were never in Pakistan before. You can enjoy the serenity of Gulberg greens while playing tennis at the heights of the mall; you may feel the opportunity to live in penthouses. If you want to buy a shop, you can start with only a 30% down payment.
Islamabad Real Estate Forecast 2022
According to the Islamabad real estate forecast for 2022, Gulberg greens will be the hub for businesses. The residential and commercial projects will reach peak prices. This is the right time to invest in Gulberg greens because you will always enjoy fruitful returns here.
Frequently Asked Questions(FAQs)
+
Yes, Gulberg Islamabad is the best investment so far. The area is safe and secure and rich in resources. All the facilities such as educational institutions, parks, hospitals, pharmacies, and shopping malls are there to provide you with the basic needs of life. Moreover, society is secure with a 24/7 security system with no crime rate. The real estate market is growing at exponential rates, and you must invest in the right place to get the right returns.
+
Yes, Gulberg residencia is a good project for investment. Society contains all the basic facilities of life and is designed for those with a refined lifestyle. From well-constructed apartment buildings to luxury penthouses, this society has a lot to offer for investment. You must invest today to save your tomorrow.