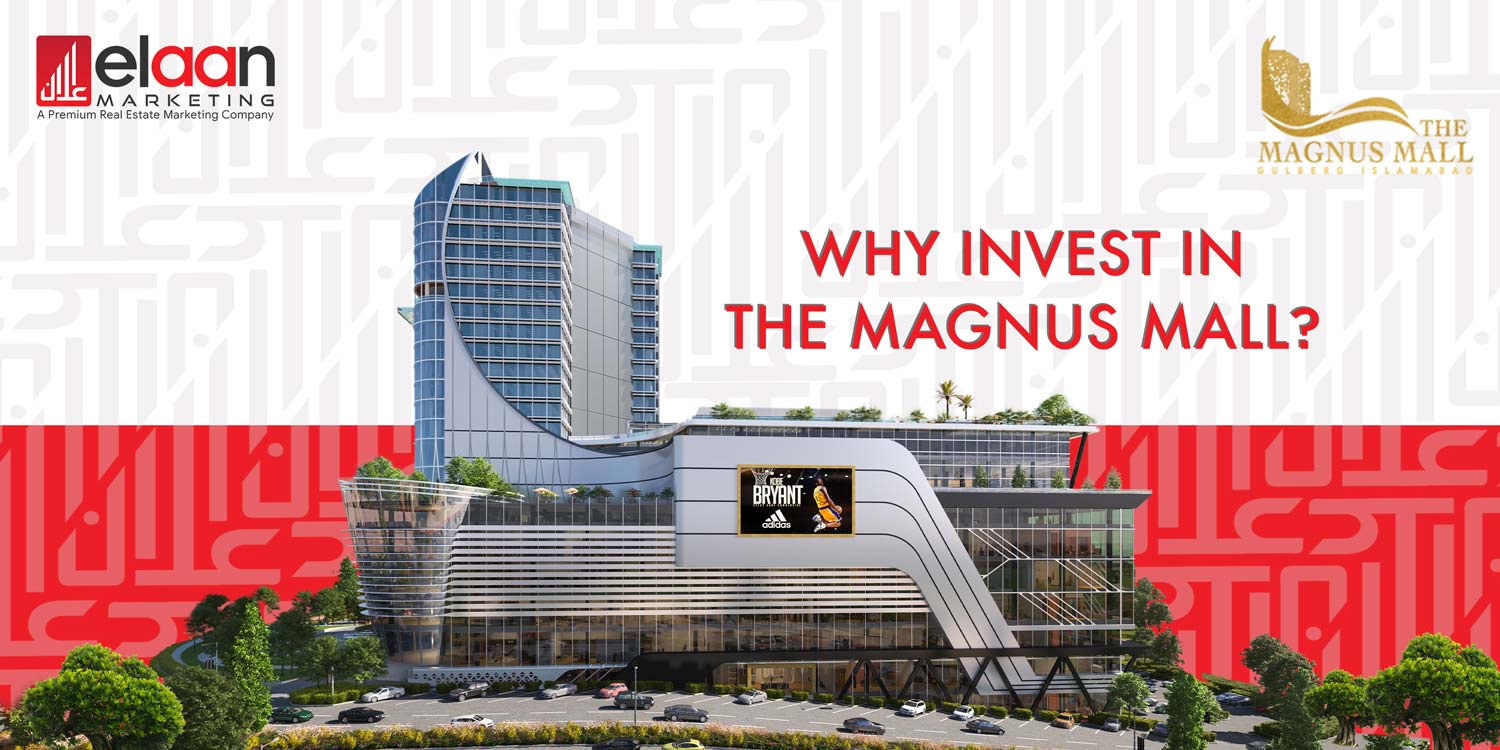 From the very first day, man's struggle to live a better life has not stopped. He has done wonders and turned planet earth into the best place to live and love. For this purpose, he used to build modern cities and civilizations but now he builds malls that are more like cities in themselves.
With changing structure of the world and economy, it became necessary for third world countries to adopt modernization. Pakistan's government has been focusing on increasing tourism for the last few years to uplift the economy. The only thing which attracts tourists and investors is shopping malls.
Elaan marketing company has come up with a magnificent project of " the Magnus mall " in a prime location of Gulberg greens Islamabad near top city. This mall covers the area of 27 Kanals with 26 floors and all the luxuries of life.
This is distinguished from other malls because of its easy payment plans and luxuries. The facilities, which this mall provides have been a dream for most of the people. Those who have traveled the world and know about the modernity have shown trust in this project and started investment on a big scale. Malls are places where people want to feel relax even when there is a lot to buy and they prioritize those places where they can save their time and money.
The parking area of Magnus mall is huge, where one will never face any questions like "how to manage? And where to park the car?". There are 4 parallel parking floors where ways are broad enough to give space. Moreover, there are 2 vast basements with a perfect environment.
Mechanical car parking is also available to maximize the area along with open car parking space which has a direct link with the park. To ease the transportation of people, there are 6 entry points. 3 entrances directly go to malls while 2 are for offices and others are designed for hotels and offices.
It has gained its importance because of its location which has multi routes including Islamabad express, new Islamabad airport, and top city. Many other societies like AJK and OPF are nearby which makes it worthy to invest in.
National and international brands expressed their trust in our company. One can get everything under the same roof as PUMA, Adidas, and ANTA are there to serve you according to your choices. These branded outlets will give you the best shopping experience while feeling safe and secure. This mall has no criminal history as it has strong security.
There is a five-star hotel that is luxurious and designed to meet international standards. Rooms are constructed to provide comfort and peace. Our staff is just one call away to provide you whatever you wish for. Food is available 24/7, as there are restaurants and many food courts.
The Magnus mall Islamabad has not ignored the health standards and therefore contains an international health club in which machinery is imported from foreign countries. Health and beauty expertise here will not let you fall.
Moreover, ultra-luxury penthouses are there to take you to another world of style. Their charming environment is clean from noise and dirt even during working hours and services are managed by a five-star hotel.
There are reserved floors for corporate offices where employees can work without disturbance and IT services and human resource concerns are kept in check to ensure everything.
The hectic routine of work and shopping can be boring, if you do not have sources of entertainment or if you have to travel long enough to enjoy. Magnus mall, in Gulberg greens, has ended all worries by introducing those things which make investment meaningful.
After stepping on the skywalk, one can enjoy the whole view of the city and nature. There are cinemas with big screens and ultrasound effects that will be used as movie hubs for the film industry.
For kids, there is a huge funhouse where they can play safely and meanwhile, parents can roam around the mall. There is also ice-skating which will be a great source of fun. There is a tennis court and snooker clubs of high levels. Pakistan's highest gulf course is here to give you an unmatchable feel.
The Magnus mall has modern amenities, therefore, providing an infinity pool on top of floors which would give it an extraordinary look.
To simplify the payment plan, the Magnus mall Islamabad encourages you to opt 30% down payment at the start. You can buy a shop on an installment basis too and these would be 1% of the total price or 4% of the total price, to do installments quarterly.
Investors with great ideas and business plans are highly appreciated here as the Magnus mall is not a project of one for one, it is a project of many for all.