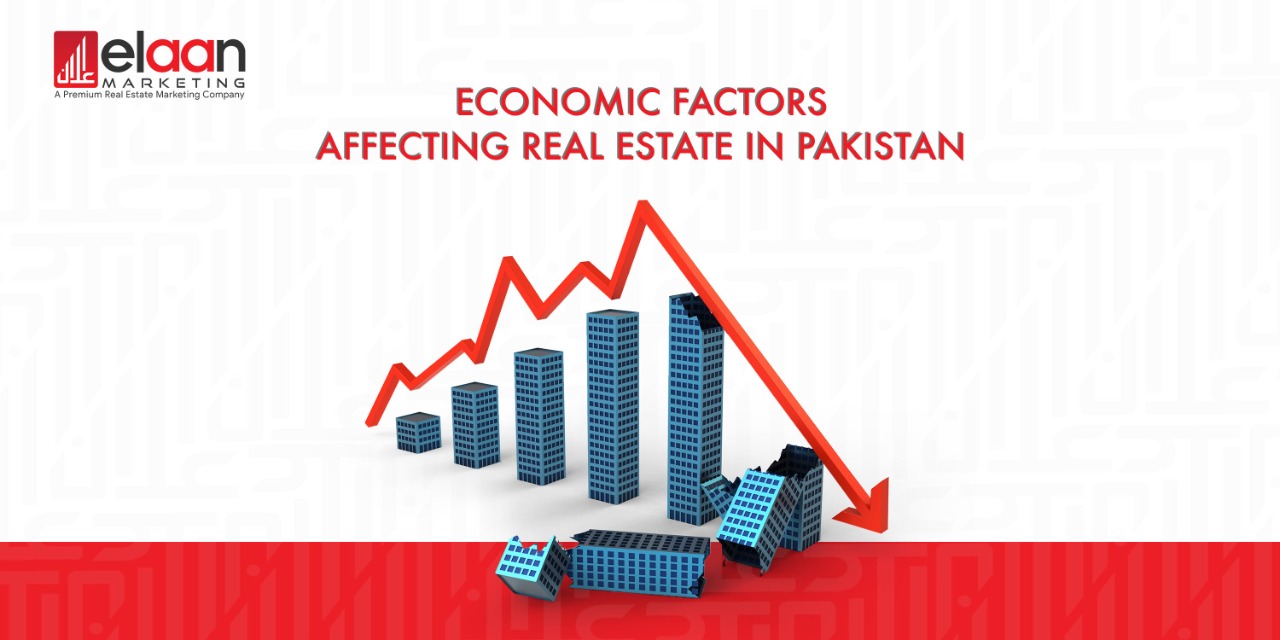 Pakistan's property market is riding high currently and has changed the country's fate by contributing to its economy. Many other industries such as cement, steel, furniture, and timber are dependent on real estate for their role in construction. They contribute 9% to the country's GDP collectively. So, if GDP grows, the real estate market grows, and investors will be more interested in this market.
Before understanding the factors, we will first look into the market and Pakistan property prices.
Pakistan Property Market
After the pandemic, the prices of properties dropped drastically because of an increase in unemployment. People started selling their properties at a lower rate than average to adjust to the critical time.
Meanwhile, those who had saved money and were already a part of the real estate business started buying properties to sell them in the future for maximum gain. But the real estate market is booming in 2021 as Pakistan property prices are now gradually increasing because more people are investing in this sector.
Pakistan Property Prices
Prices are increasing and reaching five times what they were a few years back. A one Kanal house in areas like Gulberg, Model Town, and Defence Lahore is now valued at 1 crore.
Increased demands of apartments in Lahore caused a 50% increase in the average per square feet for apartments.
| Comparing basic cost of living | 1 bedroom in City Centre (monthly rent) |
| --- | --- |
| Lahore | ₨ 16,562.50 |
| Karachi | ₨ 22,882.35 |
| Islamabad | Rs 24,677.90 |
Property Prices in Islamabad
Islamabad is one of the safest cities for real estate investment. Property prices in Islamabad are changing rapidly due to evolving trends as we are moving towards more advanced ways of living and expecting projects that provide primary and luxury needs.
So, buildings and apartments in Islamabad, that are unbeatable in their infrastructure and facilities, are now where investors are most interested in.
Many factors affect the real estate market. We will look into them one by one.
Factors affecting the Real Estate Market
Following are the factors in which slight changes affect the real estate market at a higher rate.
Environmental Factors
The environment directly affects the worth of property. If it is safe from crimes, then obviously, this factor will increase its value. Moreover, wherever you will invest, you should consider that the place is pollution-free because people will prefer that more.
Demographics
Nation's prosperity is majorly affected by the division of population such as the real estate market. The average house in Pakistan is bigger compared to developed countries, and the reason is apparent because people living here mostly prefer a joint family system. They require large homes to accommodate the whole family. Property prices are rising in housing societies as the demand is increasing day by day.
Interest rate
It also affects the real estate market. Homebuyers usually take a loan from companies that offer interest rates. If the stock market is stable, more jobs would be available; then the interest rate would be low, and that will motivate investors to buy a property.
But if the stock market isn't going well and the interest rate is high, investors will hesitate to get loans and do business in real estate. A slight change in these economic factors affecting real estate brings significant change.
Overseas Pakistani's contribution
The present government has highly encouraged foreigners to invest in the country to import dollars. Foreigners are allowed to buy a property if the security remains harmless. If they buy houses here, they will send dollars, and that will automatically support the economy.
Taxation
Property taxes greatly influence the market. Government policies have ignored real estate for so long, but recently they have realized that they cannot grow the economy without considering it. So, the government has reduced many taxes to avoid hindrance in this industry.
The rate of withholding tax (WHT) is decreased from 2% to 1% on immovable property.
Collection of withholding tax (WHT) on property purchasing, irrespective of its market value.
Status of employment
If the government is providing good job opportunities, then there are more chances for people to afford a living which they wish. So, the real estate market will grow with the requirement of new houses and buildings.
Budget of the country
Budget indeed determines the cost of properties. If the government increases the cost of bricks or cement, it means the price of houses will also increase. But, if the government gives relaxation to these industries, the construction cost would be low, and it will increase investors' confidence, and they will bring money to the country.
Link of Government Policies and Real Estate
Every policy that the government makes affects real estate, especially in the form of laws and regulations. It can resolve the problems by providing flexibility in taxes and relaxation by changing the policies.
Frequently Asked Questions(FAQs)
+
Factors like location, facilities, and security affect this market. Investors firstly take interest in those properties where all basic facilities are available nearby. They will mostly go to places where there is proper security. Moreover, economic factors such as GDP and government policies about tax and regulations directly affect real estate as discussed above.
+
The real estate business in Pakistan is booming day by day. It is the safest place to invest in housing societies and modern projects which are now being started in big cities like Lahore and Islamabad.
Real estate provides a promising future and once you invest wisely, you won't regret your decision because you can enjoy the cash flow throughout a year if you give your property at lease. One can be a successful investor, if they keep an eye on present market trends.
+
If the environment is safe and carries good security, then property value would be high. There are many societies which promise the best environment safe from crime. Greenery plays an important role in providing clean and pollution-free air. If your property is at a place where there are parks and playgrounds, it will definitely support your cause to earn and invest at a better place.