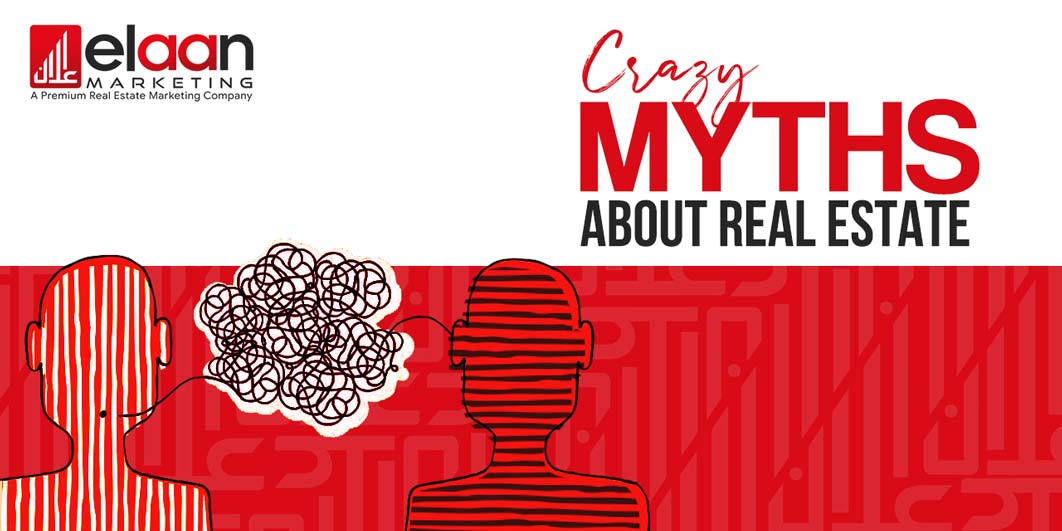 The real estate market is a new and exciting prospect for buyers, sellers, and investors. It can prove to be your oyster unless you have a really bad experience. Most of the people are somehow connected to home selling and buying and hence everyone carries their own opinion. It does not matter if they are qualified or not.
There are many crazy myths that you can avoid believing in to flourish in the market. We will discuss myths about real estate one by one here.
1. Renting is more reliable than purchasing
This is a very common myth about real estate that renting a property is better than purchasing because you enjoy the flow of cash throughout a year. But this is not true since buying a property gives you a feeling of stability and a sense of ownership.
2. Real Estate Agents become rich easily
This is another myth that real estate professionals get rich quickly. You discover that once you jump into the market because only those who survive are never in a hurry to accomplish their goals. Real estate marketing demands long-term and true planning indeed.
3. Getting Real Estate Clients is an Easy Task
It is the most common myth about real estate agents that forces people to think that an agent is a magician and he can do things within a night. This is wrong because convincing is difficult. He has to give answers to many questions like why should we choose you above all? What guarantee can you give us? So, getting a steady stream of clients is not an easy job to do.
4. The Myth about the Real Estate Market
Most people think that the real estate market will go high forever but this is not true as we have seen that in our country. During the early days of the COVID pandemic, rates went too low and the value of the market decreased. It is cyclical and seasonal also but in rare cases.
5. LandLording Implies a Full-time Job
This used to be true in old times but for now, it does not stand anymore. You don't need to go to your property daily and do things like collecting rent on the door or whatever. You can do everything online and maintain your work at the same time.
6. Investment in Homes Worth it
Misconception about where to invest is another problem of present times. It is a rumor that investment in the house will bring more. The truth is that changing trends of modernization have changed lifestyles also. People are more interested in living and investing in apartments.
7. A non-traditional schedule
New agents think that they have to follow the traditional schedule to be successful. It is not always true because if you have already given enough time about getting knowledge and data then only smart work and smart ways of thinking can help you.
8. Only Location Matters
It is one of the common myths about real estate that only location matters. This is true for megaprojects but not for lands and properties which are away from the main city. Time and market also matter and are as important as location.
9. Big cities are the best places for investment
No doubt, big cities are always crowded and people are always finding places for rent but the idea that they are the only places for investment is wrong. What if your own home is far away from a big city? You cannot come daily to see your property. You can invest in other places too and wait for the right time as property prices increase with time no matter what their location is.
10. Buyers want to begin with a low offer
While purchasing a home, most buyers think that it is better to start with a low offer but this is just another myth about the real estate market. Negotiation is fine but you have to be flexible in the discussion too.
11. You need a lot of money to buy a home
Gone are the times when you needed a 20% down payment to buy a home. Now, you can buy a home with a 5% down payment or no payment at all. There are many ways to do that like getting a partner or renting your residence. Real estate projects by Elaan Marketing offer down payments as low as 10%.
12. Vacation homes are a waste of time
This rumor is not true at all because vacation homes can give you profit more than your expectations as they are located in tourist sites and are always in demand for renting. You can enjoy the rent while sitting at home.
13. Buying a Big House can benefit you
This is one of the most common real estate investing myths that you should buy a big home that you can afford. Buying one property cannot give you enough profit. You can buy several properties at different locations to succeed in business.
Most people spread the news that real estate won't grow in 2021 but this is wrong. Real estate in 2021 is continuously growing by leaps and bounds in Pakistan. Browse this to know everything
14. Government Policies don't Matter
Some people try to understand the market without considering the other factors as they think those factors don't matter. These are myths about real estate and no more than that as this market contributes 2% of total GDP in the country's economy and every step which the government makes for law and tax directly affects this market.
15. All Agents are the Same
Street brokers who often meet you will tell you that agents are useless. It is just a myth about a real estate agent because they know more than any common man. An agent knows the market and trends, knows the prices of properties and all pros and cons of investing in them. Many authentic companies offer the best services and clear your confusion about the market.
Frequently Asked Questions(FAQs)
+
Being a real estate agent can give you many benefits as it is very fulfilling and full of financial rewards. But this is not an easy job to perform. You must have complete knowledge of the market and trends. You should understand that knowledge is power. Experience comes with time. There are hard tasks for real estate agents such as doing entangled paperwork, promoting himself, and providing customer services and with all this, he must be honest with his work. It's a reward to be a real estate agent.
+
No, no one should believe in that. If you are a hopeful investor or buyer then these myths will stop you from achieving your goals. There are trustworthy companies which can provide you the complete guideline about properties and save you from a big disaster. You just have to believe in yourself and the knowledge you have gained in years and avoid all those myths which are hindrances on your way.