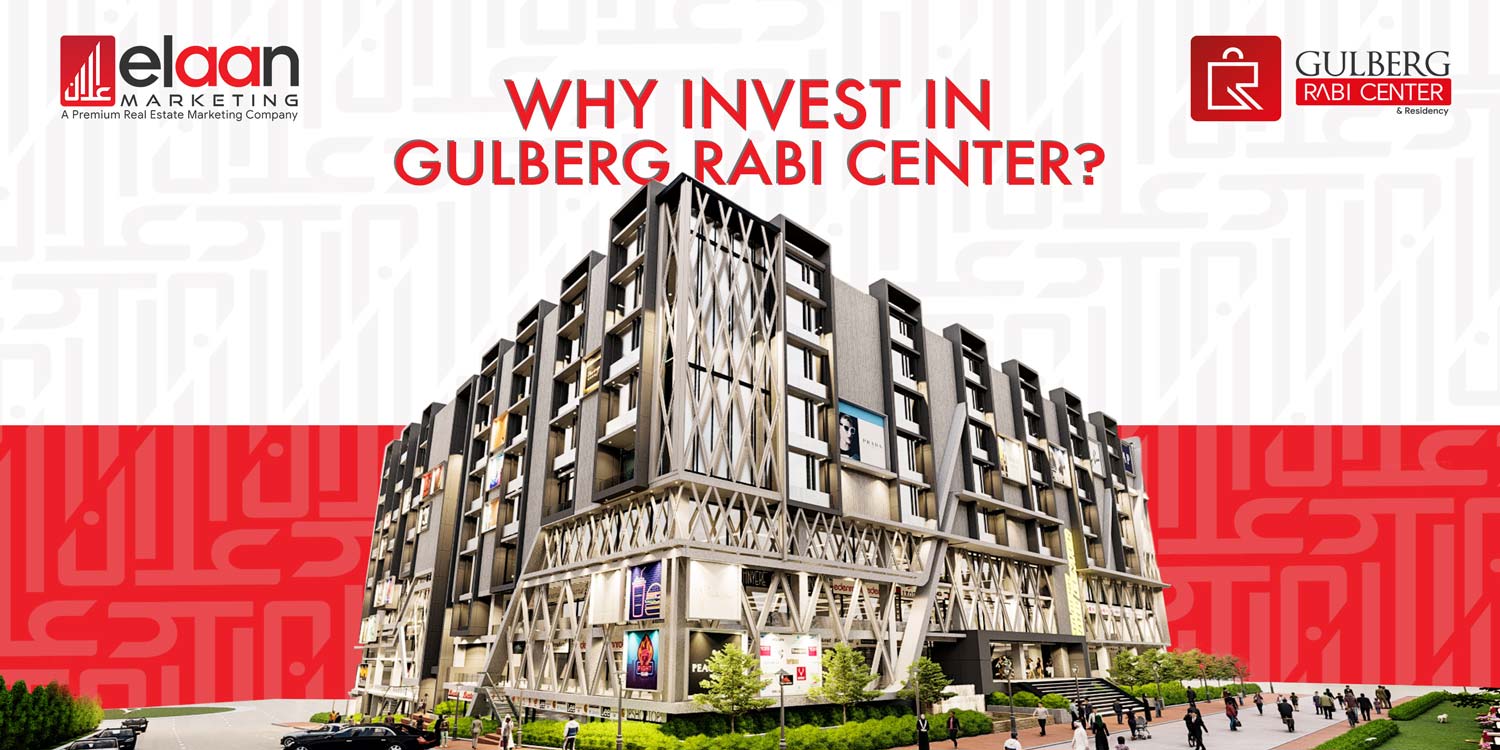 Ever needed a place where you could own a shop and an apartment in the same building? Look no further than Gulberg Rabi Center.
The only better place which is located between the twin cities, Islamabad and Rawalpindi is Gulberg Rabi Center. The building is structured to provide apartment space and shops- all facilities which are exactly what you want in present-day life.
Where is Gulberg Rabi Center Located?
Whenever you are looking forward to a place where you can invest and have the easiest approach, you always go to check a location. It matters because no one wants to live in an area far from the brightening lights of the main city.
Gulberg Rabi Center is located in Gulberg Greens and is a commercial hub. Three societies such as Naval Anchorage, Senate Society and OPF Society are connected to it, which increases its strategic importance. Different routes from both cities are linked with this.
If you have a residence here or are running a shop, you will always get a good response because it is just 9km away from Islamabad Expressway.
Gulberg Greens, Islamabad is being developed at a very fast pace, there are malls opening, eateries, farmhouses, corporate offices and so much more. Investment opportunities here are truly endless.
How many Floors does Rabi Center Have?
Gulberg Rabi Center Islamabad has come up with some of the best investment opportunities to avail. It is not a small mall because half of it is offering commercial shops for sale. It contains 11 floors on the land of 12.5 Kanal. All floors are designed according to the needs.
Ground floor
From imported to exported brands, every outfit is available here. Foreign brands have developed trust hereafter analyzing the amenities and location.
Upper ground floor
This is reserved for the jewellery market where you can get things of your choice.
1st floor
This one is reserved for mobile selling and other similar accessories. All types of mobile brands are available here to make sure the accessibility of each tech brand you love.
2nd floor
From the second floor and above, there are lots of apartment spaces available to invest in. Yes, the best-formed apartments where you will get the feel of a home.
All floors are designed and categorized according to a niche- so you know which floor to go to rather than roaming around the whole building.
Residential Apartments
Rabi Center Gulberg Greens Islamabad offers luxury apartments in variable sizes while keeping customers' preferences in mind. What else do you want if you have a flat and shop in the same building? It is going to save you time and energy.
Their modern infrastructure and tile flooring are unmatchable, which brings style and convenience simultaneously. Amid the crowd, you can find your peace here. There are sound absorbers all over the building that will not let you disturbed by the outer noise.
On apartment floors, size and price are as follows:
| Apartment 2nd floor | Apartment 3rd floor | Apartment 4th floor |
| --- | --- | --- |
| Size: 455 – 1610 sq. ft. | Size: 455 – 1610 sq. ft. | Size: 455 – 1610 sq. ft. |
| Price: 8,500 per sq. Ft. | Price: 8,300 per sq. Ft. | Price: 8,100 per sq. Ft. |
Rabi Center Gulberg Payment Plan
Rabi center shops for sale are now available, and you can get that with the best instalment plans of two years. This center is offering a payment plan which any ambitious man can afford.
For more information, you can look into the rabi center payment plan.
Rabi center shops for sale are exactly structured based on demands and trends. Here are some payment plans:
| Floor | Property Type | Average Price per sq ft (PKR) |
| --- | --- | --- |
| Ground Floor – Level 1 | Commercial Shop | 45,000 |
| Ground Floor – Level 2 | Commercial Shop | 50,000 |
| Ground Floor – Level 3 | Commercial Shop | 42,000 |
| Upper Ground Floor | Commercial Shop | 35,000 |
| First Floor | Commercial Shop | 32,000 |
Is it Safe to Invest in Rabi Center Gulberg?
Once you invest here, you will not regret it. It is exclusive for the amenities it provides. Imagine having work and residence in the same building. Imagine where all basic and luxury facilities are available, where hospitals, schools and parks are near.
Here you get the instalment plans which are affordable so that you can make your dreams true. Here are the amenities that Rabi center Gulberg green Islamabad provides:
Architectural Design and Tiles Flooring
Earthquake Resilient Features
Electricity & Gas Supply (24 hours open)
High-speed Elevator & Standby Generators
The whole system of security, including guards and CCTV cameras, are operated from a control room. This has been done to ensure that you won't feel unsafe while shopping or living. Fire alarms and earthquake preventing features are incredible to deal with any extreme emergency..
Rabi center Gullberg greens islamabad is one of the most lucrative projects put forth by Ovaisco Builders and Developers, marketed by Elaan Marketing. Their offices are also located in Gulberg Greens, near Rabi Center.
For more information, go to Elaan Marketing and move towards a life of honor.