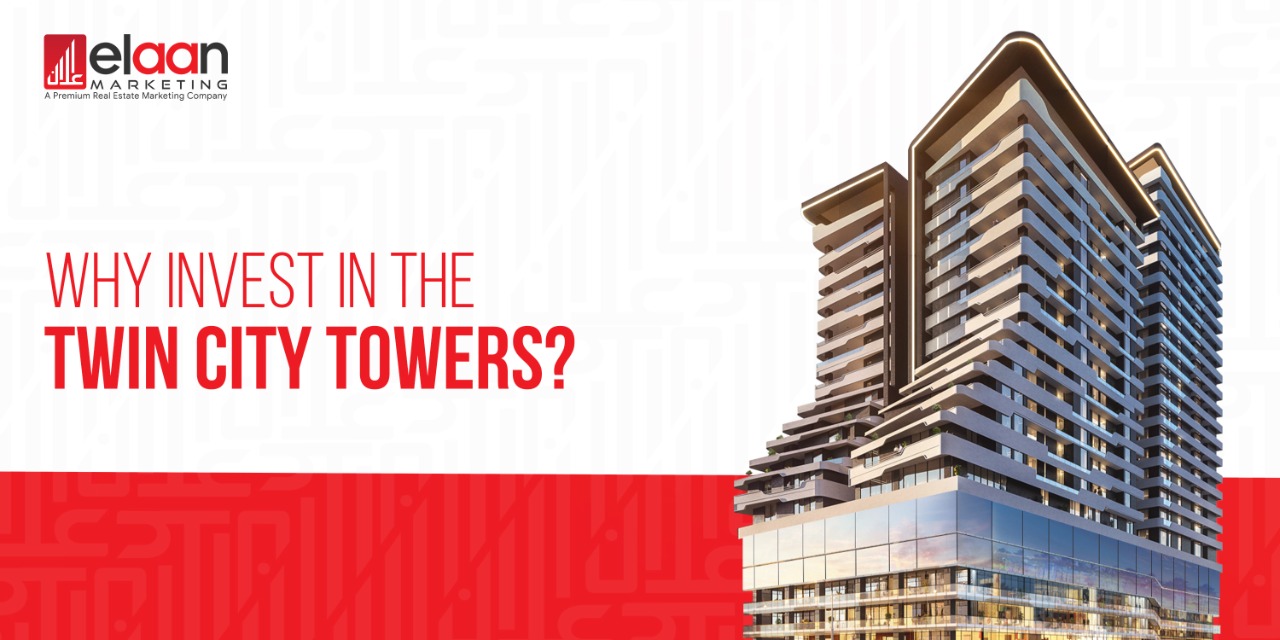 Twin city towers is a place for euphoric dreams. What else do you need when you can enjoy everything under the same roof? This is a place where you can live as well as buy whatever you want. Living here can save the time and energy that everyone needs in this global village.
Twin City Towers Location
An essential aspect to invest in twin city towers is its location. It is located in F-18, C Block Faisal town, just 7-8 minutes away from Islamabad airport. Location is ideal because of its very short distance from main points such as Fateh Jang Interchange. It is also associated with the Srinagar Highway. There is future planning of making a new interchange that will directly link Srinagar highway with Faisal town.
Design and Structure
It covers an area of 10.5 kanals, almost 54000 sq feet. This project consists of residential apartments as well as commercial shops. It is designed for maximum comfort having all amenities in it.
Floor Planning
Four commercial floors contain shops of all categories. They can include:
Ground Level 1
Clothing Brands
National and international brands have shown interest in twin city towers. Almost all clothing brands have started investment in this project due to its prime location.
Ground Level 2
Boutique and Branded outlets
All sorts of branded outlets are there for your services. You don't have to travel long distances just to buy a dress for yourself because twin city towers contain everything that is the need of the present day.
Upper Ground Floor
Jewelry and Cosmetics
All sorts of cosmetics would be available here. You don't have to travel long to access basic needs. All you need is a lift to reach the makeup brands you love.
First Floor
IT and Mobile Market
There is a huge mobile market. Shops are available for sale, and the area is quite good starting from 150 sq feet onwards. The expected rate would be 30,000 per sq feet. Click this to get more information contact Elaan Marketing .
2nd and 3rd Floor
These floors are meant for services where you can get whatever you want. We have not compromised on anything as our staff is there to serve you.
Twin City Apartments
Three different residential towers are there to offer high standards of living:
Apartments for Sale
Apartments are designed while considering the needs of clients and are divided into three categories.
Simple construction
They are constructed where you can live and design them the way you want.
Proper construction
They are constructed with interior fittings and everything installed in them. Their prices are affordable and negotiable.
Luxury apartments
This is one of the best categories as these are highly luxurious. They offer a peaceful and magnificent environment. They can be a one-bedroom apartment or two bedroom apartment, whatever you need according to your family.
Grandeur Tower
Studio Apartments
They start from 365 sq.ft, ranging from simply constructed apartments to luxury ones. It all depends on your choice whether you want a simple apartment where you can manage your own environment or a well-designed apartment which we have constructed for your ease.
Two Bed Apartments
They are in the range of 1088 sq.ft to 1477 sq. ft. All are well- designed and constructed in a way to create a peaceful environment.
Three Bed Apartments
They are built on an area of 2370 sq.ft specially made for people with families where they can live together and enjoy their private time too.
Providence Tower
This is built for people belonging to the working class where they can spend their quality life. It also contains one bedroom apartments ranging from 645 to 763 sq.ft, two bed apartments starting from 1207 to 1430 sq.ft and three bed apartments which covers the area of 1751 sq.ft.
Presidential Tower
This tower is specified only for apartments where you can live and spend the most peaceful time of your life. Apartments are varying in size and design and that totally depends on your choice where you want to live while the basic needs are provided to every resident. From peace to security, from construction to design, the Presidential tower of the twin city is matchless. The most important aspect is the price range of apartments and instalment plans to make things easier for clients.
Amenities
While offering the basic needs of life, twin city towers are full of amenities that distinguish them from other nearby projects. Let's look into them one by one:
Smart Parking
With a total parking area of 1.6 lac sq.ft. 600 cars can be parked in this spacious area because of its unique design. Most people have shown concern about parking while living in islamabad. We have highly considered that and came up with this better and bigger project to solve the major problems.
Free Wifi
The facility of free wifi is there for you to be active on your social media and business. There is no hurdle in technology here.
Play Area
Where all things were considered, how could we ignore kids? There is a big play area for kids where they can make their childhood memorable. The environment is safe and sound with all recreational activities to rejoice at the moment.
Bowling Arena
You can enjoy with your friends at the lanes of the most marvelous bowling alley. The surrounding is suitable and beautiful, which is specifically made for your convenience.
Swimming Pool
What if summer is hitting you and you are in search of a place where you can spend your afternoon more peacefully? Then surely you can enjoy your time at the swimming pool which is beautifully designed.
BBQ Area
We have not forgotten your get-together and meetups, and for that, there is a clean bbq area where you can enjoy quality time with friends and family.
Rooftop Restaurants
Who doesn't want to have a good meal and scenic view at the same time? Rooftop restaurants in twin city towers will provide lavish food served by world class staff with a charming view of the capital.
Media Room
There are business rooms that are built according to modern needs. They provide you the opportunity to work in a safe environment and set up meetings for your employees in order to enhance your business techniques.
Mosque
There is a beautiful mosque in the building where you can offer prayer. The design and space of the mosque are incredible and are accessible for all people.
Technology
There are special arrangements for high-speed internet such as good quality tv cables and intranet connections.
Fitness Gymnasium
The modern styled health club also contains the latest machines and massage center where you can get the luxury relaxation and fitness you really deserve.
Backup Generators
To provide you electricity for 24 hours there is a complete system of backup generators. The twin city towers project is the only project in Islamabad where you find what you want.
Security
Twin city towers offer the best security as no one can compromise over that. To ensure that residents stay safe within walls, they contain the following features such as:
CCTV cameras are spread in halls
An emergency exists on every floor
Roof Inspection
Flat roofs often collect water, and it can lead to seeping. You must make every effort to examine the roof and if there is a sloped roof, then missing or damaged shingles can be a problem you need to solve.
Twin City Tower Investment
This is the best place to invest for a meaningful future that you won't regret. They are offering a 10% discount on pre-launching prices. So, invest in twin city towers before it's too late.
Frequently Asked Questions(FAQs)
+
The prime location of twin city towers increases their value as it is just a few minutes away from the airport. Moreover, it is connected with Fateh Jung and Srinagar interchange. The luxury feels that it provides, and its standards are matchless. An ample parking space, health club, security system, and best design make it distinguished from all others. Any investment will not go in vain here as more and more people are considering apartments for investment due to the changing trends of the modern world.
+
Yes. Twin city towers is the best project so far. It contains all the facilities that meet international standards. Once you enter the building, you will feel an incredible atmosphere that no other building offers. Those who wish to live a luxurious life and want a future in real estate should choose this project for investment as it can assure you a bright future.
+
The project is under construction but developing vastly as the bedding of this site is completed. It is expected that twin city towers will be completed within a year, and possession will be granted in a stipulated time.