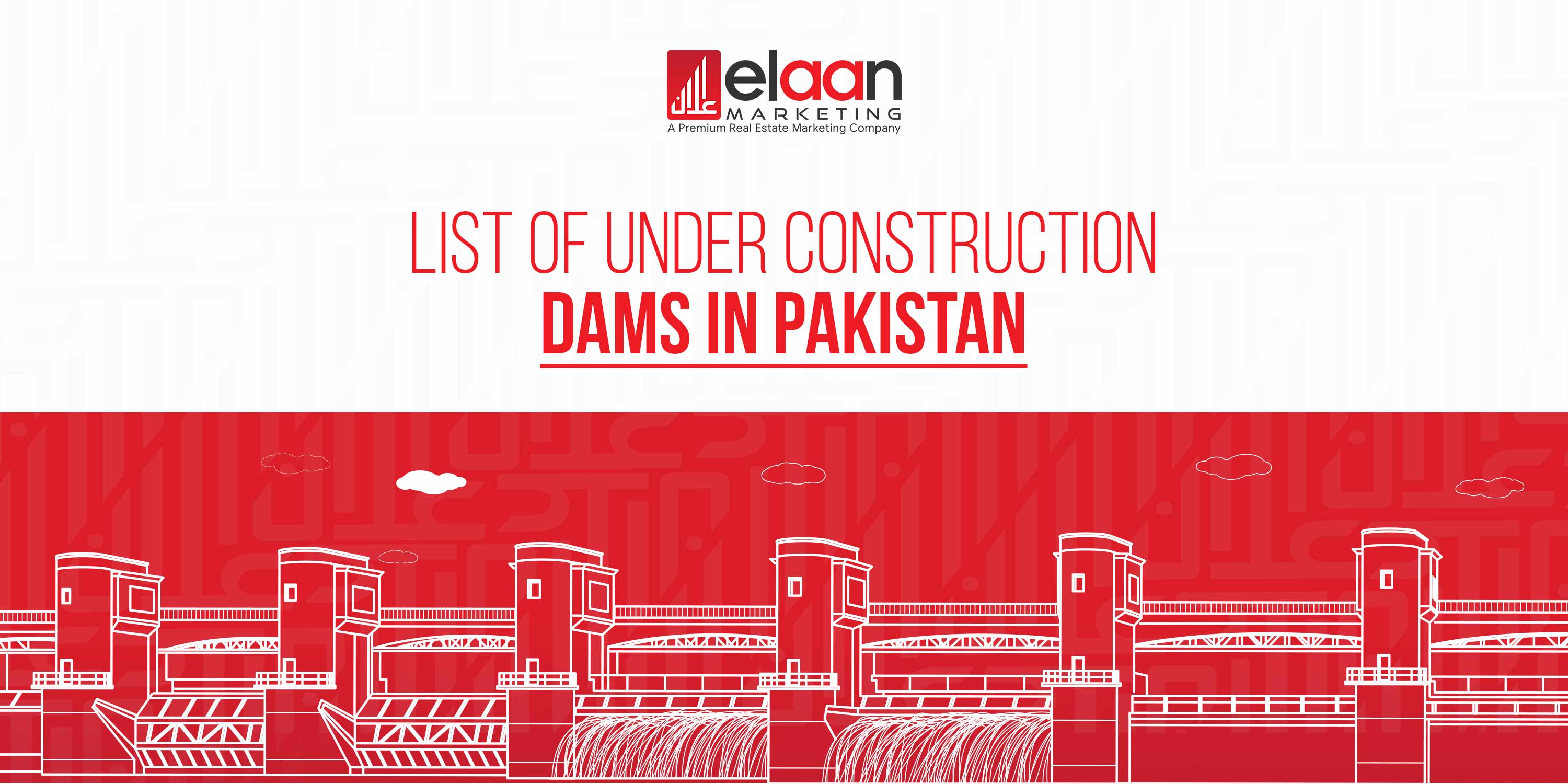 Prime Minister of Pakistan, Imran Khan announced on Thursday, August 12th 2021, that his government has decided to build ten more dams to meet water needs and protect future generations from the upcoming water crisis. He observed that the country could learn from China, as it plans 20 to 30 years ahead.
He visited Tarbela Dam and laid the foundation stone of the dam's 5th extension project and said,
This project will enhance the dam's power generation capacity by 1,530 megawatts from 4,888 megawatts to 6,418 megawatts.

Imran Khan Prime Minister Of Pakistan
Need for Dams
Pakistan's water issue has gotten worse, especially in the last decade. Water scarcity has also contributed significantly to the country's power crisis. Pakistan is among the countries producing the most expensive electricity in the world.
However, the government has stepped in to make new dams and produce pollution-free electricity from water. Before moving towards the list of under-construction dams, we look into the existing dams and their energy.
Existing dams in Pakistan
According to the International Commission on Large Dams' data, Pakistan has a total of 150 dams and reservoirs. Tarbela Dam, Mangla Dam, Sukkur Barrage, Rawal Lake, Head Marala, Jhelum River, Margalla Hills – National Park, Islam Headworks, Kishanganga Hydroelectric Plant, and WAPDA House are among the country's ten major dam sites, with Tarbela Dam and Mangla Dam being the largest with depths of 470 ft. and 453 ft. respectively.
The storage capacity of the two dams has also been determined to be 13,690,000,000 m3 and 7,251,811,000 m3, respectively. These are also some of Pakistan's most famous dams. Imagine if we complete the remaining projects, we will enjoy the cheapest electricity in the world.
There are many projects which were started a few years back.
List of Under Construction Dams in Pakistan
There are projects which are at the stage of initial development. Following dams have a collective storage capacity of 7.747 million acre-feet.
The government of Pakistan is planning to build seven more dams which will add 13.948 million acres of storage capacity.
Dasu Hydropower Project
It's near Dasu, in the Khyber Pakhtunkhwa (KPK) province's Kohistan District. On the Indus River, the project contains a 4,320MW hydroelectric plant. The project is about 74 kilometers downstream from the prominent Diamer Basha Dam, 240 kilometers upstream from the Tarbela Dam, and 345 kilometers from Islamabad.
The project is part of WAPDA's Vision 2025 program, which began in 2001, and the Government of Pakistan's Power Policy 2013 (GOP). Each of the 12 hydropower units in the project will have a capacity of 360MW. The first six of these 12 units will be put in the first phase, while the remaining six will be added in the second.
The first phase
It comprises the construction of a magnificent roller-compacted concrete (RCC) gravity dam and auxiliary structures, an underground powerhouse, six turbo generators, and a 500kV transmission line.
The second phase
The remaining turbo units will be completed in the second phase and a double-circuit 500kV transmission line.
WAPDA plans to purchase 9,970 acres for this project, with 2,029 acres set aside for primary civil works construction. The project was expanded by another 741 acres.
DIAMER-BHASHA Dam
The Diamer-Bhasha Dam is one of the most important construction dams. This dam is a valuable addition to the country's assets. Bhasha Dam, built on the Indus River in Pakistan's northern region, would cost 14 billion dollars. It is a vast stimulus for our economy as it will create 16,500 jobs, generate 4,500 MW hydel power and irrigate 1.2m acres of Agri land.
Although the project was suggested seven years ago, it was only started in July 2018 with the help of Pakistan's Chief Justice, who organized an international donation campaign to construct the Diamer-Bhasha dam. With an early cost estimate of PKR 625 billion, the project was primarily funded by local resources.
The Diamer-Bhasha Dam is expected to be the world's highest roller-compacted concrete (RCC) dam, with a water storage capacity of roughly 8,500,000 acres.
On 11 May 2021, the Prime Minister was informed that the prep work was completed and the dam was ready for construction.
Mohmand Dam
It is also known as Munda Dam due to its geographical importance. It lies around 5 kilometers opposite Munda Headworks in Mohmand Tribal District in Khyber Pakhtunkhwa.
The new dam project in Pakistan would increase agricultural development by 16,737 acres, with 9,017 acres on the left and 7,720 acres on the right.
On the orders of the Supreme Court of Pakistan, the Pakistani government began construction of the Mohmand Dam in July 2018. The dam's principal goal is to reduce water scarcity by holding water during times of surplus and releasing it during times of scarcity. The dam's secondary functions may include the generation of hydropower and the regulation of river flow. Due to moderation, floods will be mitigated, and hundreds of innocent lives will be saved from natural calamities.
The Wapda officials said they were committed to completing the project, inaugurated by Prime Minister Imran Khan in May 2019, during the high-flow season of 2025.
Frequently Asked Questions(FAQs)
+
There are seven dams under construction; many dams will help reduce water scarcity and produce a large amount of hydropower. The electricity would be cheap and pollution-free. Moreover, they will control floods and improve agricultural lands. If these dams are complete, Pakistan would be able to produce the cheapest electricity in the world, and our economy will grow in no time.
+
Following dams are under construction: Diamer-Bhasha Dam, Naulong Dam, Kurram Tangi Dam, Nai Gaj Dam, and Dawarat Dam, and they have a collective storage capacity of 7.747 million acre-feet. Those completed and ready to become functional are Garuk Dam, Winder Dam, Papin Dam, and Pelar Dam.
These four dams have a water storage capacity of 0.142 million acre-feet. The government is also planning to build seven more dam projects in Pakistan, including the Hingol dam, Akhori dam, Shyok dam, Munda dam (Mohmand Dam), Tank Zam dam, and Chiniot dam. These seven dams combined will add 13.948 million acres of storage capacity.