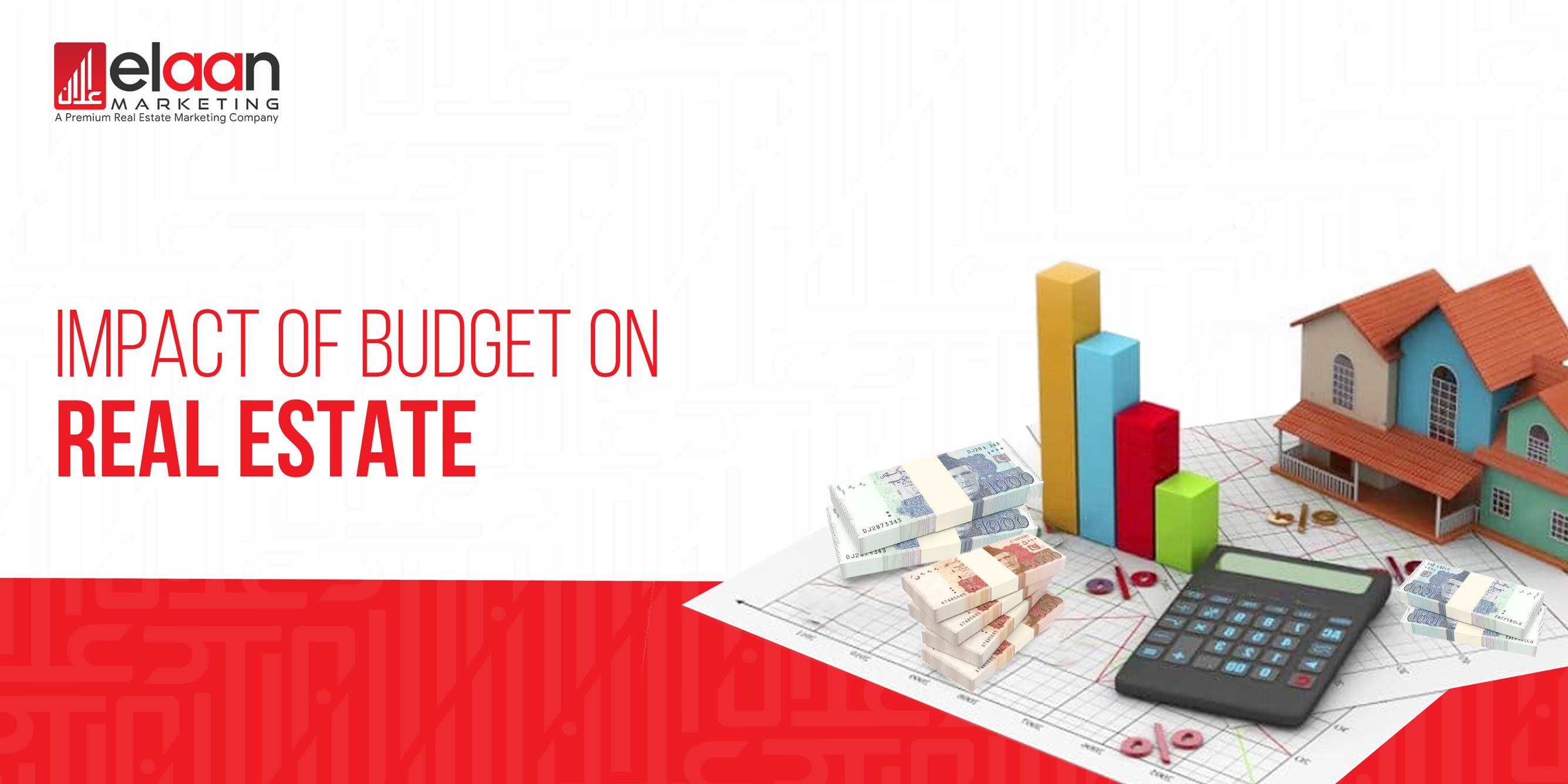 Every policy that the government makes directly affects the business of real estate. The impact of the budget on real estate is the most important of all. It decides the fate of development in the country. We will look into the past and present conditions of Pakistan's real estate market.
Impact of Budget on Real Estate in Past
Decades ago, governments were not that supportive in this industry. Many people were already investing, but there was no support from the government. Several strict policies were made that lowered down the confidence of investors. Few of them stepped back and found it unfruitful. While there were still wise people who waited for the right market time as they saved what they had. Now, they are more successful than any other businessmen. Let's see how the new government is taking real estate as the first and foremost priority.
Real Estate is Booming Today
Pakistan's real estate marketing is growing as it is the main pillar of the economy. It contributes 70% to 75% to Pakistan's total wealth. Pandemic has brought some crisis because most people sold their properties at lower rates to meet their needs. Market rates went too low, but investors took advantage of the situation. They bought properties and then got enough knowledge. Yes, their time came, and that time is today. The market has so much in it for innovators and beginners who have some extraordinary plans for development. This industry is now creating jobs and welcoming youngsters to work with them. So, those days are not far when it will prove to be the best industry in the country.
Union Budget 2021
The new budget made by the PTI government has considered the market. They have modified tax and terms to uplift the market. The better the policies are, the better the economy works. If you want to know why the impact of budget on real estate is important, then this particular article will clear your confusion.
Impact on Construction Sector
Construction-related industries such as cement, steel, furniture, and timber are dependent on real estate for their role in construction. They contribute 9% to the country's GDP collectively. The new budget has offered a relief package for them with lower interest rates. In addition, the price of CEMENT FED has been cut from PKR 2 to PKR 1.75 kilograms to reduce building costs and encourage people to engage in this industry and use the properties.
Relief for Construction Sector
Capital gains tax rates have been decreased from 15% to 12.5%
If a property is sold within four years of purchase, there is no CGT
The minimum time for tax exemption has been reduced from 8 years to 4 years, which is a significant improvement
With each passing year, CGT on property sales will be reduced by 25%
The source of development and construction income is not required to be declared to the government (applicable for people involved in the development and construction sector)
Developers are subject to a fixed amount of tax
People who have low income can enjoy a 90% tax reduction
Public Spending Developing Programs
Infrastructure development will significantly benefit the real estate sector. In budget 21-22, the government has set up 900 billion rupees for PSDP projects, a 40% increase over the previous year. This means that many new infrastructures, such as highways and overhead bridges, will be constructed. So, the impact of the budget on real estate is also determined by the infrastructure of the country.
Property Tax Reduction
According to the Finance Act 2020, the holding period and CTG (contingent) reduce immovable property disposal. The longer holding period means that property was not bought to make a sudden profit. So, the government has introduced some tax flexibility.
Property Taxes are Reduced
If the holding period is less than one year, then 100% of CGT is taxed
If it is more than a year, capital gains to be taxed would be 75%
If the period is more than four years, no CTG is applied
Updates about CGT:
It was reduced by half after the Finance Act
If the gain is less than 5 million, the tax value would be 2.5%. It was 5% before the act
If the gains are more than 15 million, the tax value would be 10% which was 20% before the act
Naya Pakistan Housing Scheme
The PTI government, headed by Prime Minister Imran Khan, has also announced $30 billion in subsidies for the Naya Pakistan Housing Scheme, which aims to offer low-income Pakistani families low-cost housing. The housing initiative is expected to improve the bar for the country's economy and banking sector by assisting working-class families in living comfortably.
Outcome Of Budget 2021
Throughout the Covid-19 pandemic, the government sought to assist people and allocate funds for Pakistan's development, particularly the building and real estate industries. This gateway to economic stability will be fruitful since it fosters development and multiplies effect on Pakistan's economic structure.
This budget has a relatively good impact on Pakistan's building and real estate sectors. The real estate business in Pakistan is expanding as real estate companies are easing ways to understand the industry.
Frequently Asked Questions(FAQs)
+
Pakistan Real Estate is a terrific opportunity for most Pakistanis to invest, especially if they have enough resources and need money. Investment in this industry is an excellent strategy to accumulate wealth and generate passive income. To know if the real estate market is good or not, you must consider the following factors such as the buyer interest, demand, property taxes, and legislation. Due to covid, property prices are decreased, and it is the best time to purchase a property at a lower price from which you can benefit tomorrow.
+
CGT is a tax paid by sellers. It is charged only when a property is sold within three years after its purchase, according to the Finance Act 2017. The rate of taxation is 10% for the first year, 7.5% for the second year, and 5% for the third year. These gains need to be estimated using the FBR's valuation table and the fair market value. If a property is held for longer than three years, the seller is not obligated to pay CGT.
+
Yes, this is the best time to buy a property in Pakistan as tax rates are low and affordable. Real estate is a buyer's market in 2021 because more and more people are taking an interest. Investment in this industry is an excellent strategy to accumulate wealth and generate passive income. Several factors influence the property sector's growth, such as buyer interest, demand, property taxes, and legislation. Due to covid, property prices are decreased, and it is the best time to purchase a property at a lower price from which you can benefit tomorrow.