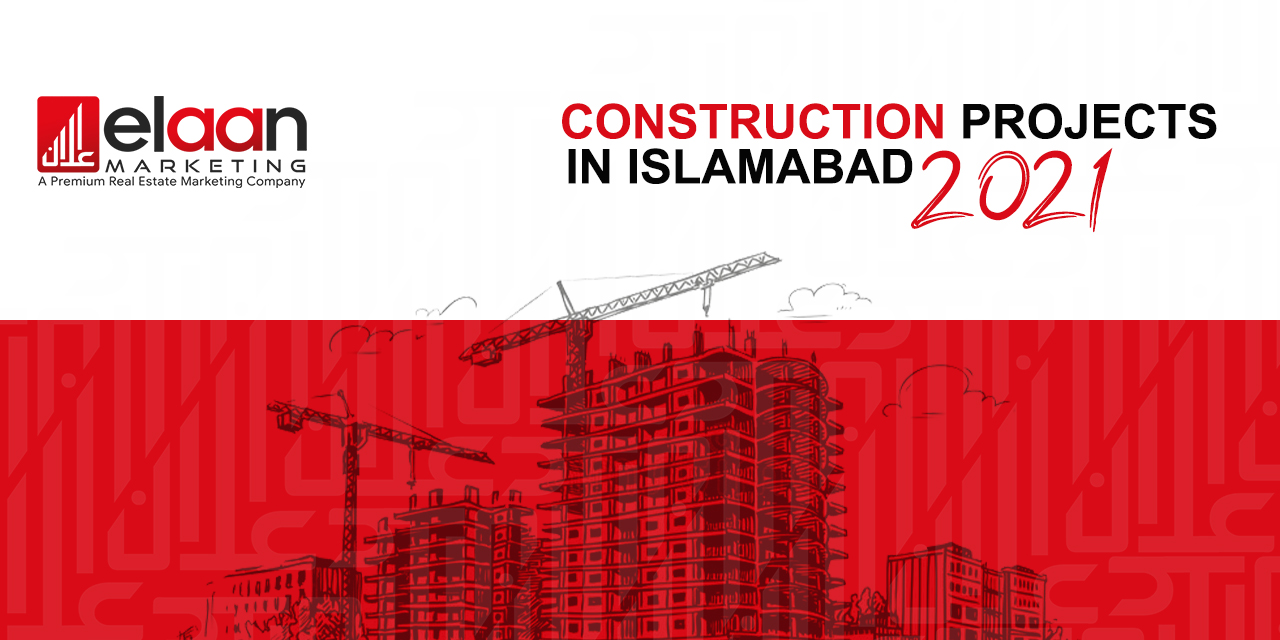 Islamabad, Pakistan's administrative capital, is known as one of the most beautiful cities in the world with a well-planned infrastructure. The presence of several iconic government buildings adds to the city's appeal.
Islamabad's land is managed by the Capital Development Authority (CDA), which is responsible for maintaining housing facilities and economic development. Different Construction Projects in Islamabad that meet international standards are emerging on the map.
This additionally makes this city worth living in. To see what this city offers, We will discuss the latest construction projects one by one.
Top Societies in Islamabad
Choosing a society to build your house to live in or rent it out requires a slightly different set of requirements. The suitability of a residential neighbourhood is entirely subjective and is determined by the individual's preferences. Nonetheless, when it comes to choosing where to live, there are several features that everyone should consider, such as location and amenities.
Gulberg Greens Islamabad
Gulberg Greens is based on farmhouses and is located in CDA Zone 4, Islamabad. These farmhouses offer a beautiful and high standard of living, making them suitable for individuals who wish to get away from the hustle and bustle of the city.
Gulberg Greens farm houses have plot sizes ranging from 4 to 10 Kanal. There are six primary blocks in the region containing all the facilities you need to live a luxurious life.
Investment opportunities in Gulberg Green
Business Square, Business Park, and Blue Area, that contain Greens and Residencia shares, are the three different centres in Gulberg Islamabad. Plots are also available as low-cost investments in society. Because interest rates are still low and available to many investors, there is a significant prospect of a good capital gain in the following years. This society carries the fortune for new construction projects in Islamabad, where investment is surely profitable.
The Magnus Mall , a marvellous project by Ovaisco Builders and Developers, is located in Gulberg greens Islamabad, near the top city. This mall has 26 floors and occupies 27 Kanals, offering all of life's conveniences. Because of its flexible payment methods and luxury, this mall stands out among others. For most people, the amenities provided by this mall are a dream come true, such as:
A Location that has Multi Routes
It has evolved in significance due to its strategic location, which provides access to multiple routes, including Islamabad express, New Islamabad airport, and Top City. Many other societies, such as AJK and OPF, are close by, making it worthwhile to invest in.Investing in apartments
Four Parallel Parking Floors
Magnus mall's parking spaces are enormous, so there will never be any parking concerns- the lot is safe and spacious. There are four parallel parking floors with broad enough paths to provide ample room, and there are also two large basements with ideal conditions.
Mechanical Automobile Parking
There are six entry points to make people's transportation easier. Three of the doors lead straight to malls, while two are for offices and the rest are for hotels and offices.
Five-star Hotel
A five-star hotel that is magnificent and built to international standards is available. Rooms are designed to promote comfort and luxury.
Ultra-luxury Penthouses
The ultra-luxury penthouses will transcend you to another realm of beauty. Even during working hours, their attractive location is free of noise and filth, and a five-star hotel provides commendable services.
Skywalk
One may enjoy the entire perspective of the city and environment after going onto the skywalk.
Highest Golf Course
There is a high-level tennis court and snooker clubs. The highest golf course in Pakistan is here to provide you with an unforgettable experience.
Floor Plan
Above all, payment plans are well-managed, and you can start with a 30% down payment.
Gulberg Rabi Center
This is one of the best projects of Gulberg Greens in the list of Construction Projects in Islamabad, providing the opportunity of residence and work altogether because the building is structured to provide apartment space and shops- all facilities which are what you want in present-day life.
Why Invest in Gulberg Rabi Center?
Gulberg Rabi Center is a Commercial hub located in Gulberg Greens, containing 11 floors on the land of 12.5 Kanal. It is linked to three societies: Naval Anchorage, Senate Society, and OPF Society, which add to its strategic value. This is connected to many routes from both cities.
It is only 9 kilometres from the Islamabad Expressway; whether you live or run a business here, you will always get a positive response. Here are the amenities that Rabi center Gulberg green Islamabad provides:
Architectural Design and Tiles Flooring
Earthquake Resilient Features
Electricity & Gas Supply (24 hours open)
High-speed Elevator & Standby Generators
Gulberg Icon 2 is a fantastic project with a variety of residential flats and retail spaces. Shops occupy the lower ground and ground floors, while residential one, two, and three-bedroom apartments occupy the third, fourth, and fifth floors.
The Islamabad Expressway is just a few minutes away, connecting this project to several major hospitals, airports, educational institutes, public transportation, and other commercial areas of the Twin Cities such as Blue Area and Saddar.
Amenities
The amenities that Gulberg Icon 2 provides make it a worthy place to invest and live.
The payment plan is simple, and you can also choose two years of instalment to get a property here.
B-17 Islamabad
B-17 presents innovative models for modern living and outperforms every feature from your wish list for the perfect home. It is located in the heartland of the Margalla hills, combining the charm of the countryside with the conveniences of a city. B-17 provides all of the necessities of city life at an affordable price.
Latest Construction Projects in B-17
B-17's builders have made every effort to make this location green and appealing to anyone planning to visit or stay here; it's a mini-city outside of Islamabad. The best aspect is that, because of B-17's strategic location, you can easily visit Islamabad city whenever you want.
The Multi Gardens B-17 intersects with the GT road (N5), which connects Islamabad with Wah and Taxila, and M-1, making it easily accessible for anyone travelling to or from Islamabad. Therefore, new projects are beginning to add beauty to this marvellous society, one of which is Islamabad Square.
Islamabad Square is a residential apartment complex located in Islamabad's sector B-17. Margalla Road is only 6 kilometres distant from it. Furthermore, Faisal Masjid is 45 minutes away, Islamabad International Airport is 35 minutes away, and Kashmir Highway is only 25 minutes away.
This is the most crucial aspect that directly affects the value of a property. Locations with many amenities nearby, such as schools, universities, or markets, are highly valued. Its proximity to the highway and Zone II of Islamabad's capital territory makes it ideal for its residents. Following are the facilities which this mega project provides.
Commercial Area
Parks surround the area where these apartments are located, doctors' clinics, play areas, stores, and administrations. Residents will have no difficulty adjusting to life in a magnificent environment constantly evolving with the times.
Parking
Wide closed parking is offered in Islamabad square luxury apartments, and you will never run out of room because two basements have been created so that the maximum number of people may park their vehicles in them.
Architecture and Design
All of the finest amenities are available in these spacious and modern apartments. Depending on the demands of the people, they range from one to four bedrooms. The ceiling and floor designs are exquisite, radiating a sense of elegance and sophistication.
Atrium with Central Air Conditioning
An atrium is an essential architectural component in large buildings. It's at the heart of the roof building, with skylights giving it a magnificent look.
A Community Hall
A large community hall is available for public gatherings and activities. It helps you to learn about the people who live in your immediate area. In such a venue, you can have ceremonies and make your meetings memorable.
Other Amenities
You can take advantage of a variety of different services here, for example
Customers and maintenance services are available 24 hours a day,
A special arrangement has been made for women's prayer space.
Investment in Islamabad Square
You've seen the amenities that this project has to offer. This is the safest investment option for you because Islamabad Square is situated in the heart of the twin cities of Rawalpindi and Islamabad. Brokers and new investors should take advantage of the opportunity as apartments for sale are also available, and they are available in different sizes and designs according to their needs.
| Apartments | Size |
| --- | --- |
| 1 bed apartment | 470 Sq feet |
| 2 bed apartment | 935 Sq feet |
| 3 bed apartment | 1600 Sq feet |
| 4 beds apartments | 1715 Sq feet |
Park View City Islamabad
Park View City is located near Bahria Enclave in Islamabad's prime location. The location is in one of the city's wealthy and critical regions, surrounded by well-known housing and commercial projects. Park View City is located in Zone-IV near Bani Gala Hills on Jagiot Road in Islamabad.
Facilities in Park View Islamabad
The following are the services that this society offers.
The National School in Park View City
Club and Community Center
Apartments in Park View City
Park View City Apartments offer another elite living option in peaceful and attractive surroundings. The luxury apartments are an excellent option for reasonable living in the upscale housing project, with access to special amenities such as a swimming pool, gym, grocery stores, and laundry facilities. Ongoing construction projects in Islamabad, including residential and commercial, are developing vastly to meet the needs.
Capital Smart City
Capital Smart City is a state-of-the-art housing project that seeks to give an exclusive lifestyle with modern infrastructure and cutting-edge technology. It is located within a few minutes drive from New Islamabad International Airport. This eco-friendly society covers over 55,000 Kanal and provides exceptional luxuries that one could only dream of.
All three blocks of Capital Smart City Islamabad, Overseas, Executive, and Harmony Park, offer residential and business sites. In addition, the big housing project provides Villas that are entirely created and furnished.
Smart Features
It has several intelligent elements that help to produce a sustainable environment for its residents, including:
Automated traffic management
Fully automated utility supply
Apps for traffic management
Under Construction Projects in Smart City
Many projects in Smart cities are under construction, such as
The Jamia Masjid of Overseas Block C
Capital Smart City's Overseas Block B
The Connecting Bridge (450 feet long)
Faisal town
The housing complex is right near the Fateh Jang Interchange on M-1. The New Islamabad International Airport is only a 10-minute drive away, while the N-5 GT Road is only a 5-minute drive away. Additionally, the Kashmir Highway and Margalla Avenue are close by and provide a short route to the city.
Features & Amenities
The housing society has all the upgraded facilities to entertain the lives of its populace.
Modern Waste Collection and Disposal
Underground & Overhead Water Tanks
Sewerage Disposal Stations
Underground Electrification
High-end educational facilities
Horticulture & Plantation
\
Taj Residencia
Taj Residencia, Rawalpindi, is located on the outskirts of Islamabad's Capital Territory, just across from Sectors I-14, I-15, and I-16. The strategic location of Taj Residencia also provides residents with easy access to Islamabad International Airport, which is just 10 minutes away by car across the M-2 Motorway. Here are some of the features which make it a valuable place to live.
CCTV surveillance of the highest quality.
An emergency response team is available 24 hours a day.
The community is gated and secure.
With total backup power generation
Underground cabling and piping to provide optimal delivery.
These Construction projects in Islamabad are developing and improving the community every day and helping the country grow and rise.
Frequently Asked Questions(FAQs)
+
The Society which gives you all the amenities of life and provides you with the feel of luxury is Gulberg Greens, where dreams come true. It offers the best lifestyle for all, including people in business and jobbies.
Plots are at a low-interest rate, which gives an option chance for investors to invest. Prices are going high day by day, and there is a chance that you won't regret buying a property here. You can buy shops in the Magnus Mall or rent an apartment in Gulberg Rabi Center, which are matchless in their facilities.
+
The best Housing society in Islamabad is Gulberg Greens. Modernity has changed people's views, and they prefer to live in a place where they can access everything. Gulberg Greens is full of charms as it contains everything in it.
From education institutes to hospitals, from parks to Big Malls, plots to rental apartments, one can have anything of his choice. Moreover, this is the best place for investment as it carries that extraordinary potential in it.
+
Sector B-17 is best in Islamabad, and the thing which makes it best is specifically its location. It intersects with the GT road (N5), which connects Islamabad with Wah and Taxila, and M-1, making it easily accessible for anyone travelling to or from Islamabad.
The latest Construction Project like Islamabad Square, which is a residential apartment complex. He is the safest investment option for you because Islamabad Square is situated in the heart of the twin cities of Rawalpindi and Islamabad.